Are you wondering how to identify the best local Philadelphia SEO company? As a small business, we understand how much work it takes to promote a business. These days, part of a successful marketing campaign is trying to build your presence online. So, it can be pretty frustrating when, despite all the work you've put in, your competitors out rank you on all the keywords that you want to rank for. It's your competitor that appears in Google's coveted three-pack, while you are lost somewhere else in the mix of results. The reason? Your competitors have a better local SEO strategy!
Understandably, in the above scenario, it can be difficult not to bang your head against the wall and wonder, "What's up with that???"
That's exactly why we decided to write this blog post. Part of having online SEO success is working with a Philadelphia SEO company who really understands what needs to go into an SEO plan. A successful local SEO campaign needs a unique blend of on-site strategies with off-site ones. And, because we specialize in doing exactly that, we'll share the coveted answers to some important questions to help you get the local online visibility you deserve.
Let's get right into it!
Philadelphia SEO Company | How Can I Determine if a Company is Good at Local SEO?
Fortunately, this is the easiest question to answer. if they are good at what they do, the company will be able to explain exactly what they'll do for your company. Not only that, but they will provide you with lots of details and explain it in a way that makes sense to you. If you come across a company that talks about a proprietary process (or, maybe even worse, a "secret sauce"), then that's not the right company for you. After talking to a good Philadelphia SEO company, you'll finish the conversation with the feeling that you know exactly what they'll be doing for you and why.
Now, here are some of the tougher questions! Buckle u and enjoy the ride 🙂
What is Local SEO and How is it Different from Regular SEO?
If you're using organic SEO techniques on your website, one of your key goals would be to appear as high as possible in the search engine results pages (SERPs) for relevant keywords. Let's give an example: If you were a stairlift company in Morris County, New Jersey, you'd want to be one of the top organic listings for the term "Morris County Stairlifts", or "Stairlifts in Morris County".
Your local SEO efforts, though, are focused on getting quality placement in the Google Map local pack for relevant terms, especially in one of the three listings (the three-pack) that you can see without needing to click on the "More businesses" link. For example, if you're a Scotch Plains roofer, you would want to appear in the local three-pack for that term. Here is that three-pack image:
As you can see, it is important to be able to rank in both places, but the Local SEO is specific to the Google three-pack. When you talk to local Philadelphia SEO companies about their strategies for your company, pay close attention to what they say about getting your company into the three-pack listings. What strategies will they use?
Although no two local search companies will respond in exactly the same way, a quality company in 2019 will use a blend of:
Google My Business optimization
Incoming Links and Citation Listings
On-site optimization, especially in connection with NAP consistency (name, address and phone number)
Google reviews
keyword research for your targeted area
strategies that will help your local SEO campaign dovetail with other online marketing efforts
Local SEO is a unique mixture of art and science, evolving as Google makes changes to its algorithm. Quality companies evolve right alongside these changes (without algorithm chasing!), while also proactively learning about likely changes in the algorithm and SERP placements. That way, the company has a plan in place, if needed, right out of the starting gate, and can react quickly. Quality companies also monitor site metrics to help ensure that their strategies are remaining effective.
OK! Now for the question we have all been waiting for…
What Does Google do to Determine What Companies Rank in the Three Pack?
Let's let Google answer that question for us: "Local results are based primarily on relevance, distance, and prominence. These factors are combined to help find the best match for your search. For example, Google algorithms might decide that a business that's farther away from your location is more likely to have what you're looking for than a business that's closer, and therefore rank it higher in local results."
Here's a bit more information about how Google defines these three terms:
Relevance: how closely a local listing matches what a searcher is looking for; the more detailed and complete your local information is, the more easily Google can appropriately match you up with prospects
Distance: with local search, Google will compare how close a listing is from a location term used in a search; if a location term isn't used, Google will use what is known about the location
Prominence: this refers to how well-known a business is, with familiar, more established store brands, as just one example, having an edge; a company can gain online prominence by being visible online, though, including through Google reviews and link building campaigns that increase your online authority signals.
Philadelphia SEO | What Role Does Google My Business Play in Local SEO?
Google My Business (GMB) is a free tool provided by Google so companies can manage their business information in Google. Although it doesn't cost anything to set up, but it does take a significant amount time and effort to claim/verify your business listing and to strategically optimize the listing for best SEO impact. From a practical sense, having the right information in GMB means that, when people use Google Maps to find your business, they will have access to the correct information, including your address, your phone number, your hours of operation, your website, and other key pieces of information.
As far as why you need both (GMB and a website), here is a quote from Google, "Google My Business complements your existing website by giving your business a public identity and presence with a listing on Google. The information that you provide about your business appears on Google Search and Maps."
In other words: Without a GMB profile, you can't rank in the three-pack. No matter what. 
It's vital that the name, address and phone (NAP) information found on your website and in accompanying schema matches that of GMB (more about schema soon). Think of GMB as the Yellow Pages of the digital age and you'll quickly see why inaccuracies are highly problematic.
If there are any discrepancies in your NAP, prioritize this fix because accurate business data is crucial for your site to perform well in Google's local search algorithm. The maps section of Google, as just one example, relies heavily on accurate data so users can call the right number and get accurate driving directions. And, here's the bottom line: If your online NAP information is incorrect, Google won't trust your listing enough to prominently show it in response to searches.
Summary: GMB is by far the most important aspect of ranking locally in the three-pack. If a Philadelphia SEO company every tells you that they don't do GMB…Run away as fast as you can!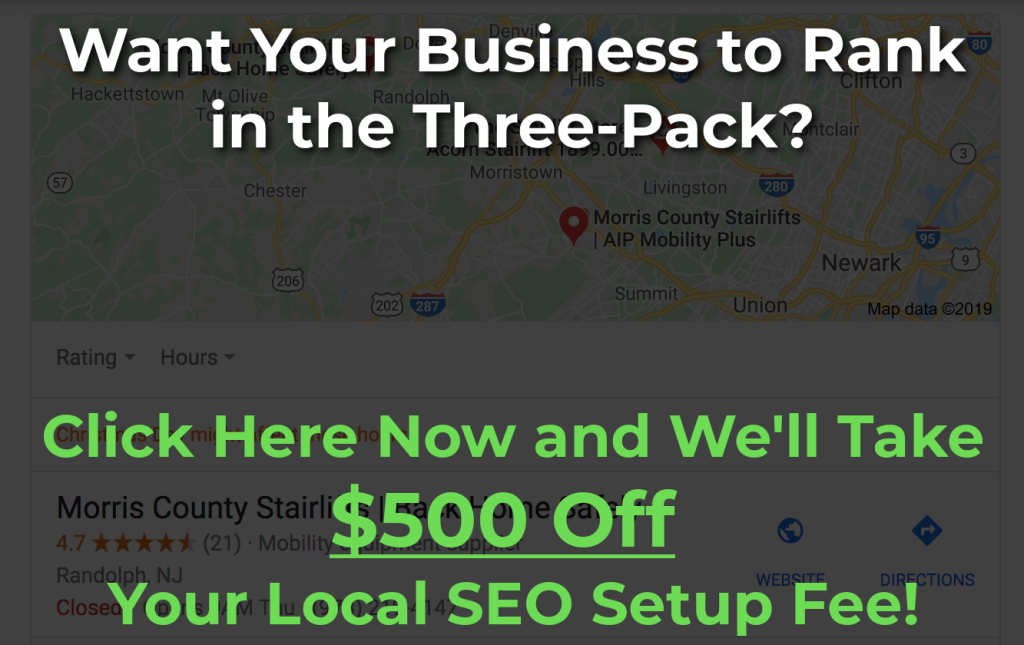 Are Google Reviews Really Important?
Here's the truth about reviews: Simply having more reviews, though, isn't enough. It's what is being said in them that really matters. GMB pages that contain reviews that use keywords and/or the city name, for example, rank more highly in the local pack.
To get more Google reviews, encourage satisfied clients to write one. To make it easy for them to do so, you can create a unique link that will take these clients to exactly the right location. Here's another litmus test for a good local SEO company: A good local SEO company will explain, from the very beginning of your time together, how reviews are important. Plus, they will either work with you to generate more reviews using your existing tools or provide a good list of online tools to help you consistently generate good reviews.
Philadelphia SEO Company | What are Citations and How do They Affect Local SEO?
A quality local SEO company will provide citation generation and cleanup services. They will also be able to explain the importance of these services. Any time the NAP of a local business exists on a website, that's a local citation. These citations can be found in or on social media platforms, individual websites and more.
Perhaps the most important citation is that on GMB. Benefits of being listed in various places online include:
Quality citations help you to rank more highly in local search engine rankings
People in your area who see your citations can click on them to see your website, which can lead to increased traffic, conversions and sales
To help your rankings, it's important to focus on:
choosing quality sites for your citations
steadily increasing the number of citations
ensuring that the information included is consistently accurate
Accurate information is very important, and is not to be overlooked! If the information found in citations conflict, Google is less likely to trust your website, which means you're less likely to rank well. Plus, potential customers may go to the wrong address, call the wrong number or go to your business when you're closed, none of which is good for business.
It's also important to monitor your citations, because they can easily appear without your knowledge through the use of automated aggregation tools. Errors need found and corrected as soon as possible to help prevent any negative ranking impact, as well as loss of foot traffic and any reductions in associated revenue and/or reputation.
In summary: You local Philadelphia SEO company must provide a citation service that includes creating maintaining and fixing NAP inconsistencies. Otherwise, you are simply wasting your time!
Why Hire Search Fuel Design for local Philadelphia SEO?
Local SEO is one of Search Fuel's main services, and we are known for consistently getting impressive results for our clients. For a list of references, please contact us and ask! Our local SEO services include a GMB optimization makeover, a complete review of your NAPS and correcting any inconsistencies and adding missing information, comprehensive citation services (including creating and maintaining hundreds of quality citations), deep keyword research and much more! At Search Fuel, everything we do for you is out in the open. You'll receive detailed reports every month in language that lets you know how your budget is being used and how well it's working. You shouldn't have to know how to do SEO yourself to be able to decipher your SEO company's work on your behalf. For more information, call (570) 216-8247 or visit out home page for a free consolation & SEO quote!
Philly Search Engine Optimization Company
Related Posts: